Owner Operators If You're Looking For Good Freight & Established Customer Base, We Want To Talk To You In The Northfield, MN Area!
Overview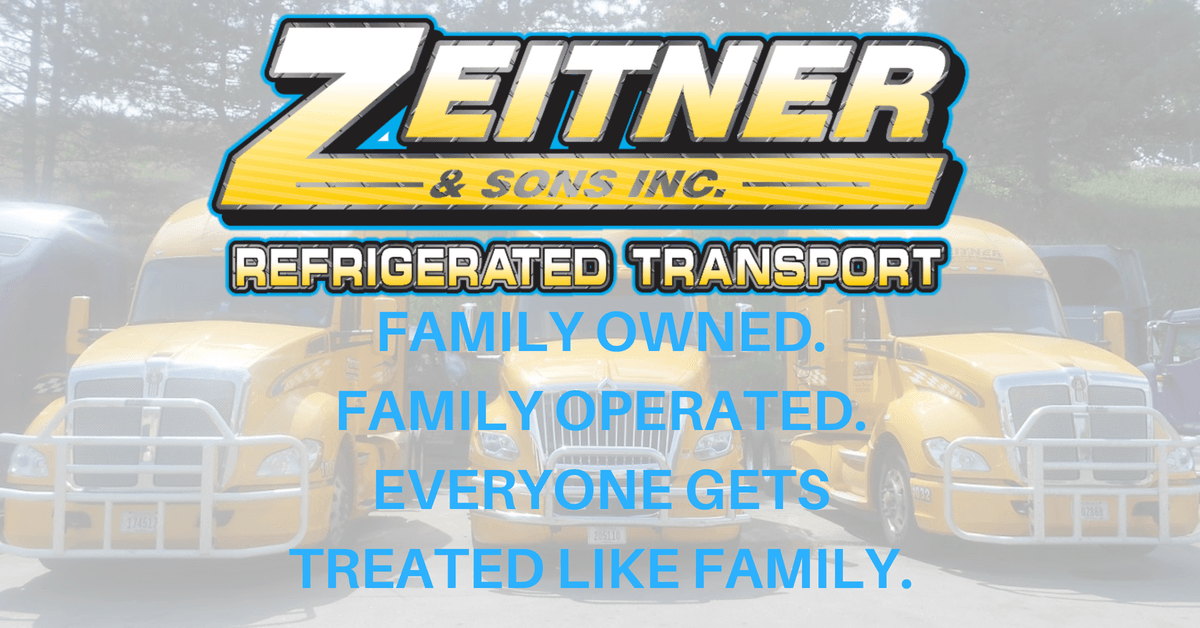 If you have a truck that is 5 years old or newer, we want to talk to you!
If you're looking for good freight and established customer base, we want to talk to you!

Here at Zeitner and Sons we believe in our drivers. Our drivers are our best assets. We are looking for a few more drivers to add to our team. With multiple drivers that have stayed with us for over 20 years, we are a company that you can call home. If you are looking for that company to call home, look no further than Zeitner and Sons. We are a family owned and operated and have been in business for over 30 years. Zeitner & Sons, Inc. located in Omaha, Nebraska, is one of the Midwest's leading refrigerated truckload carriers. We take pride in building a relationship with our drivers and know them by name. Our top priorities are highway safety, excellent customer service, and on-time deliveries.
If you are in the market for a company to call home, give us a call today.
We offer:
• 70% of Gross
• 70% of Drop Pay
• All Fuel Surcharge
• We Pay Reefer Fuel
• Weekly Settlements
• Direct Deposit
• Fuel Card
• No Charge Trailer Use
• No Cost QualComm
• We Pay Cargo and Liability Insurance
• Drivers average take home pay after fuel and everything is $2,000 to $3,000 per week
Call or Apply for More Information!
Zeitner & Sons Inc.
Zeitner & Sons Inc.
855-884-3271
Zeitner & Sons Inc. is a trucking company located in Omaha, Nebraska. One of the Midwest's leading refrigerated truckload carriers, Zeitner has modern, state-of-the-art equipment from companies such as: Kenworth, International, Freightliner, Great Dane, Utility, Carrier, and Thermo King. In business for more than 30 years, this commercial truck line takes great pride in its history of employing the finest professional drivers whose first priorities are excellent customer service second to none. Whether you are an owner-operator or a company driver, Zeitner & Sons Inc. offers one of the finest benefit packages around. Browse our website to learn more about our company, our services, and our great employment opportunities. We, at Zeitner and Sons Inc. exemplify what the trucking industry is all about.
Zeitner & Sons Inc.'s Hiring Area
IA

IL

IN

KS

KY

MI

MN

MO

ND

NE

NJ

NY

OH

OK

PA

SD

TN

WI

WV
Benefits
Health Insurance
Vision Insurance
Dental Insurance
Life Insurance
Cargo / Collision / Liability Insurance
Retirement Plan
Paid Vacation
Paid Weekly
Direct Deposit
---
Truck Driver Job Application
Fill out the secure form below to get job offers today:
Missing Required Fields.
Click here
to fill in missing info.